After meeting a few of our favorite groms on on the Gold Coast, we thought we'd introduce them to you. We think they're going to be the ones to watch in the not-so distant future.
There's kids with energy and then there's Sky… her enthusiasm not only for surfing but also skating, martial arts, dancing, singing and go kart racing is off the charts. She is the definition of froth and she's just turned 9
Sky lives in Miyazaki, Japan, across the road from her favourite break and has her sights set on joining the World Championship Tour some day. Given her perpetual stoke, we have no doubt she will.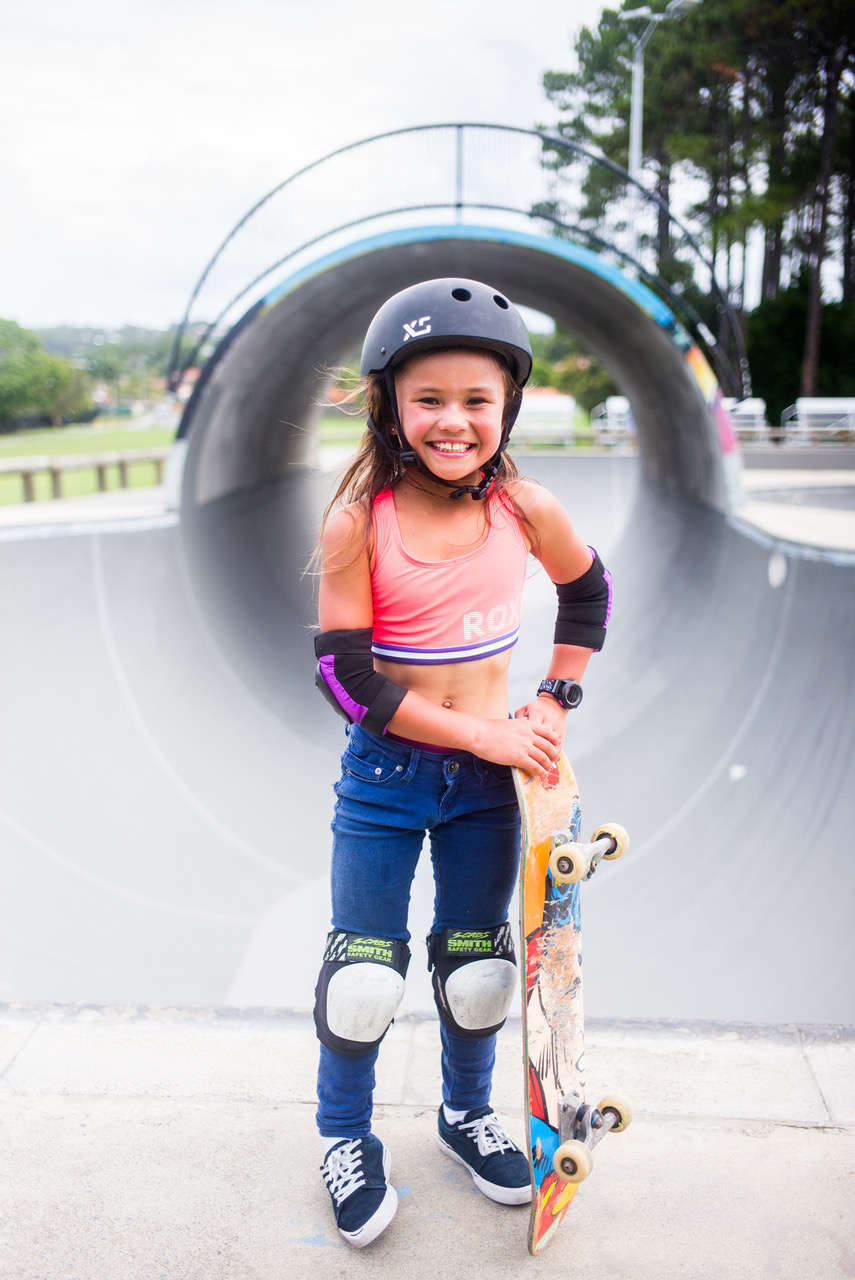 Name – Sky Brown
Age – 8
When did you learn to surf? I learnt to surf for real when I was 4, but I've been doing tandems grabbing my dad's leg since I was like.. 2??
Who taught you? My dad at first and then myself.
Where's your favorite break? My home break right in front of where I live in Miyazaki Japan, and lowers in California ... oh and Swamis. I got a lot.. oh and Snapper on the Goldie too :)
What's your favourite thing about surfing? It's the way it makes me feel, it makes me feel alive and I feel like I'm free and I'm full of happiness. I love the feeling when I've surfed some good waves and then can't stop smiling for the rest of the day, it's the best feeling in the world. I also love to be in the water, it's my favorite place to be. I always wanted to be a mermaid.
What do you want to be when you're older? My dream would to be a pro surfer on the world tour, surfing and traveling around the world like Steph and Bronte, that's looks soooo amazing that would be my number 1 thing to do
Who is your idol? I really really love Nicki Minaj, my Idol for skating is Leticia Bufoni. I have a lot for surfing - Stephanie Gilmore, Coco Ho, Carissa Moore, Kelly Slater and John John Florence.
Who is your idol? Favorite thing to do (other than surfing)? I have a lot of fave things to do the top of the list after surfing would be skateboarding. But I love to sing, dance, model, snowboard, do fitness stuff, go cart racing. I take MMA (mixed martial arts) lessons in Japan and that's really fun too, I go against the boys because I'm the only girl in the dojo and I love it so much. I taught myself gymnastics so when I'm not in the water I'm on the sand doing flips and being upside down. Also don't tell anyone but I like going to school, studying Japanese Kanji is really fun and I have a lot of fun with my girls there.